Smart Skills for Smart Bangladesh: CodersTrust announces five ground-breaking offerings
Smart Skills for Smart Bangladesh: CodersTrust announces five ground-breaking offerings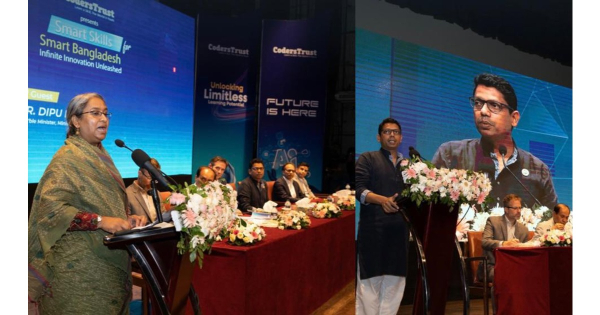 Global EdTech-based digital workforce development and skill-oriented education provider CodersTrust has announced five new programs under the theme 'Smart Skills for Smart Bangladesh: Infinite Innovation Unleashed'. Through these programs, world-class skills-oriented education and training opportunities will be created for the new generation of Bangladesh through partnerships with global leaders.
The programs were announced at a launching ceremony at the National Museum auditorium in Dhaka in mid June. Education Minister Dr. Dipu Moni, MP was present as the chief guest while State Minister for ICT Division Zunaid Ahmed Palak, MP graced the occasion as the special guest. Aziz Ahmad, Chairman and founder of CodersTrust, a successful Bangladeshi ICT entrepreneur in the United States was in the chair.
The Education Minister thanked CodersTrust for launching various initiatives from the private sector along with the government initiatives for national development. "We always get support from CodersTrust for the needs of the country, for the needs of the education sector," said Dr. Dipu Moni. She added, CodersTrust is bringing world-class skills training to Bangladesh and implementing various programs and these initiatives are helping to build the talent and knowledge-based society in the country towards the vision of Smart Bangladesh 2041.
In its decade-long journey, CodersTrust has directly trained 70,000 young people, 10,000 school teachers and thousands of women in Bangladesh. Highlighting this, the State Minister said that during this same period, ICT division could train only 57,000 people - so, CodersTrust has surpassed the government in workforce development, said Zunaid Ahmed Palak. In his speech, State Minister for ICT Zunaid Ahmed Palak referred to CodersTrust as a part of the family of ICT Division of the Government.
In the event, CodersTrust launched 'Next Generation Skills', a new offering that will provide globally accepted certification courses for high-end technology skills like AI, Big Data, Cybersecurity, Cloud Computing, DevOps and Blockchain - meeting the needs of both the country and global high demand for these advanced skills. Through these courses, talented young people of Bangladesh can become Certified Professionals with high income potential and worldwide job opportunities.
CodersTrust also announced affiliation with the prestigious National University of Bangladesh. This affiliation will enable CodersTrust to offer Diploma Courses accredited by the university and serve as the official training partner of the university for digital career skills and credentials that will prepare the students for the Digital Era, addressing the high unemployment rate among its students currently.
National University Vice-Chancellor Dr. Md. Mashiur Rahman attended the function as special guest. Moshiur Rahman said CodersTrust is working to prepare a new generation with ICT skills to take Bangladesh to new heights. Describing the affiliation with CodersTrust as a very important milestone to provide necessary professional skills to the 3.5 million students of the university, he said, "By working together, we want to prepare these students for the future."
CodersTrust launched SuperKids, a first of its kind educational platform for STEM (Science, Technology, Engineering and Mathematics) education, Coding, Robotics and Mechatronics for pre-primary, primary and secondary level schools and learners of Bangladesh, in partnership with Discovery Education and Thimble, two global leaders in the STEM space.
Martin Creel, Executive Director of Discovery Education, in his speech as special guest, said, "With this collaboration we add Bangladesh to a world-wide network of teachers and learners and we are so excited about it". Oscar Pedroso, CEO and founder of Thimble, said, "We need to create opportunities for children who are curious. This science-oriented education should be advanced not by creating pressure, but by creating their interest. Bangladesh is a country of immense potential, where we want to work through CodersTrust," Oscar said. He was also speaking as a special guest in the event.
CodersTrust's partnership with the University for Peace (UPEACE), a permanent observer of the United Nations mandated by the UN General Assembly, was also announced at the event. Through this collaboration, advanced technology skills training will be provided for global development and peace in the digital age and student exchange programs will be initiated between UPEACE and CodresTrust. Video messages from UPEACE Vice Rector Prof. Dr. Juan Carlos Senz Borgo and Advisor Melissa Mannis were presented at the event.
The fifth program announced by CodersTrust at the event is called "NationWIDE" (Nationwide Workforce Inclusion for Digital Era). NationWIDE is the largest private-sector initiated workforce development initiative in the history of Bangladesh, through which CodersTrust will train 10 million students of National University and madrasas in the next five years. At present, 65 to 75 percent of those who have completed their education remain unemployed only because they do not have the skills expected by employers. Through CodersTrust's world-class training, they will be transformed into a skilled workforce according to the demands of the digital age and they can achieve financial self-sufficiency through jobs at home, abroad or in online freelancing marketplaces.
Speaking on the occasion, Aziz Ahmad said, "We believe that through partnerships and collaborations, we can make a real impact on quality and excellence in the ICT sector. We want to prepare our school level learners ready for the future". He highlighted World Economic Forum research that says, for 65 percent of the children going to elementary school today, their jobs still don't exist and 35 percent of today's workforce need to be up-skilled and re-skilled every three to four years. "Our future generations will have to compete in the global market and survive, so now is the time to prepare them," he said.
Dr. Dipu Moni also said in her speech that many university graduates do not get a job and get frustrated. For this, ICT skills are required so that they can easily get into the job market or become entrepreneurs. Zunaid Ahmed Palak said the government needs policy support for talent development, which Bangladesh has. Instead of becoming job seekers, young people should aim to become job creators, Palak underscored. Noting the importance of collaboration, the ICT state minister said, "Together we can do much, and that's why we're working with CodersTrust." Citing CodersTrust's recent contributions in Smart Employment Fairs countrywide, he said CodersTrust is no longer a separate organization, it has become the same organization with ICT Division.
Former Principal Secretary to the Prime Minister and Advisor of CodersTrust Dr. Md. Abdul Karim also spoke on the occasion. CodersTrust's contribution to transforming the country's youth into skilled IT professionals will help build a Smart Bangladesh, he said.

James Gardiner, Foreign Service Officer at the US Embassy in Dhaka, said today, six of the world's ten largest companies are IT-related and technology is playing an important role in healthcare, education, and agriculture. "It's very important that CodersTrust is working to build the skills of the future, working with global partners," Gardiner said.
The event highlighted the stories of two successful graduates of CodersTrust. One of them, Asif Hossain, is a successful trainee of the first batch of CodersTrust. During this period, he has earned $150,000 through freelancing at Upwork. Another successful student Mehedi Hasan Shakil is freelancing in accounting management. He is one of the top rated freelancers in the marketplaces in accounts management category. He, too, has earned $150,000 after learning QuickBooks from CodersTrust.
Finally, the Iconic Freelancer Awards were presented to successful graduates of CodersTrust who are earning well from freelancing in various online work marketplaces in Graphics Design, Digital Marketing, Web Design, Content Writing, etc. Award recipients are Mohammad Sohan Sardar (earned $80,000), Sifat Ullah ($10,000), Ainunnahar ($50,000), Khalid Hasan ($70,000), Sultana Rabeya ($20,000), Unme Salma ($20,000), Sonia Talukder ($50,000), Roxana ($30,000), Murad Sajeeb ($30,000), Nurunnahar Pinky ($20,000) and Hasanuzzaman ($70,000).

About CodersTrust
CodersTrust is a global EdTech-based workforce development and skill-oriented education provider currently serving over 3 million learners and professionals and 2300+ academic institutions in 15+ countries covering K-12 STEM, coding and robotics to professional skills and advanced technology skills for the digital era. CodersTrust mission is to transform underprivileged, disadvantaged, and marginalized communities, especially youth and women, into skilled professionals and connect them with work opportunities to enable financial independence and economic growth at a global scale. CodersTrust has developed a sustainable and scalable market-based model for providing skill-focused training to millions of youths worldwide, resulting in employment, upward social mobility and durable social impact.
For more information, please visit: https://CodersTrust.Global