Two-day long Youth Internet Governance Forum Bangladesh underway
Two-day long Youth Internet Governance Forum Bangladesh underway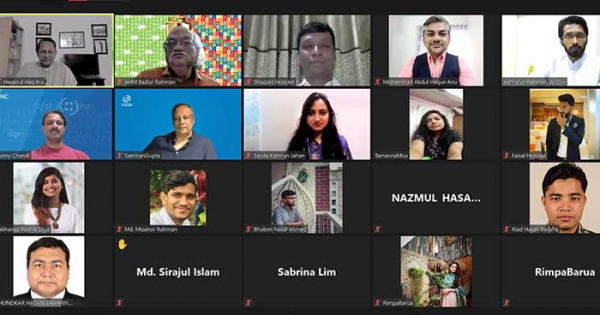 Bangladesh Youth Internet Governance Forum (YIGF) was stated on Friday (30 July) through Virtual Platform due to the COVID-19 pandemic and lockdown. The program was started at 3:00 pm and ended at 6:30 pm. Prominent experts in the tech industry and from the Internet Governance community addressed issues.
Sayda Kamrun Jahan Ripa, Chairperson, Youth IGF Bangladesh 2021 in her Welcome Remarks highlighted the Purpose of the Youth IGF Bangladesh. She mentioned that Youth Internet Governance Forum (YIGF) Bangladesh and the Vision of Youth IGF Bangladesh is to encourage our youth to contribute to national, regional, and international Internet Governance and be part of the movement which is helping to increase youth participation in the Internet ecosystem. Youth IGF Bangladesh has been working to prepare and inspire a new generation of Bangladeshi youth for constructive engagement and empowerment for a sustainable future in internet governance. Values, cooperation, collaboration, and mutual understanding between the Bangladeshi youth community and multi-stakeholders by bringing them together to make a secured internet platform. Prepare our youth to take the challenges of Internet-based emerging technologies, innovation, trending changes and social media activities, etc. She stressed empowering youth for amplifying their knowledge and influence power-holders to reduce digital discrimination.
Mr. AHM Bazlur Rahman-S21BR, Chief Executive Officer, Bangladesh NGOs Network for Radio and Communication in his Keynote discussion mentioned that BIGF has been working with the government to accelerate the activities with the government and international level for knowledge creation, knowledge preservation, knowledge dissemination. In the BIGF program, a slot was allocated organized a session for youths in the previous years. But it is the first time youths have been organized a full Youth IGF in Bangladesh. YIGF has been working to strengthen the capacity of the youth. The program was organized by the youth, of the youth, and for the youth. The YIGF has been working for empowering youth and the young generation in a fairer digitalization process through constructive engagement, amplify amplifying their voices through and reduce the digital divide by influencing policy-makers. He also discussed the 7 steps of the internet that is structure, security, legal issues, economic aspect, development, socio-cultural status, human rights. For adaptation with the digital society, the youth should work on upskilling, deskilling, and reskilling for empowering, amplifying, and influencing power-holders.

Guest of Honor Mr. Sunny Chendi, Senior Advisor Policy and Community Development, Asia Pacific Network Information Centre (APNIC) Australia mentioned that APNIC is committed to developing youth and internet governance forums for strengthened governance at national, regional, and global levels. We encourage youths through different opportunities for spreading internet governance in the areas. We also encourage to share the experience by the youth at national regional and global, that create positive changes in the society.

Mr. Nick Bauer, Government Affairs & Public Policy, Singapore, Google spoke as Guest of Honor said that it is very encouraging for me to join the important event. Google has been working with Bangladesh on policy issues, challenges they are facing, during COVID-19 response and recovery we have provided different support to help the people stay safe and vaccinated. We have provided support govt for COVID-19, flood warning information support for early flooding warning system with a big coverage area of around 100 million people. We are committed to youth development in the requirement of Bangladesh market change to work with the market and customer care.

Ms. Sabhanaz Rashid Diya, Head of Public Policy, Bangladesh, Facebook spoke as Guest of Honor and was lauded to organize the event. As a partner, Facebook is proud to involve with the program. Facebook has been working for connecting people across the world. During COVID-19 digital skills is very essential for young people. Facebook has been provided support to Bangladesh Government for vaccination of the people provide motivational information about wearing masks mental and support on mental health. Reaching out to customers and 35% new work ways women-led SMEs. She emphasized creating a digital citizenship program to empower the next generation.

Mr. Samiran Gupta, Head in India, Internet Corporation for Assigned Names and Numbers (ICANN) spoke as Guest of Honor on the basic information about Internet and ICANN interventions. He also discussed Internet Governance and the role of ICANN in the global Internet and how non-profits and voluntary organizations work as a partner of ICANN and how can the Internet be made available in different languages and scripts and the role does ICANN play in cybersecurity. Secured, structure, and working smoothly. Top-level Domain System, Dot Bangla domain is available. Inclusive means for all, how to use secured internet, online.
Mr. Hasanul Haq Inu, MP, Chairperson, Bangladesh Internet Governance Forum & Chairman Parliamentary Standing Committee on Ministry of Information & Broadcasting chaired the session highlighted that the internet has created a revolution in society, youth can connect the world through the internet. Country society and across the world can involve youths and how we can use the internet they will speak and new innovative ideas.

We should work to reduce the digital divide and discrimination, reduce, governance, multi-stakeholders dimension is necessary, digitalization all sector of the society come across environment and climate and holistic approach is required. New emerging technology in our mother tongue, cyberspace, freedom of speech, e-commerce. We need to apply our minds and raise our voices various understands the necessity of the issue, digital devices are important.

Ms. Rimpa Barua discussed Youth IGF Bangladesh Influencer Hunt & Youth Ambassador Activity 2021. She said Influencer Hunt is a program to select contributors who will be supporting in disseminating the activities of Youth IGF Bangladesh 2021. We are searching for many contributors, from now onward who will actively participate, share & spread the event information among our fellows, friends, colleagues & the youth community through various social media and other platforms.

Mr. Ashrafur Rahman Piaus, Deputy Country Director at World Youth Organization (WYO) highlighted about Youth Ambassador program of IGF for promoting, Youth citizenship, diplomacy, volunteerism, and community services as key aspects of next-generation leadership to help to get ICT access, empowering voice, influence power and create awareness for trusted internet. And not to violate rules, refrain from engaging any harmful for all and pass not to share any comment on social media which is nor community standard.

Ms. Sabrina Lim, GSE Programs Manager, Singapore, Internet Corporation for Assigned Names and Numbers (ICANN) mentioned Internet is 52 years old but it is young for the human being, now 5 billion users of the internet, what kind of internet do we need inclusive, trusted, but it should open, stable, secure, interoperable, resilient. ICANN need more young people to make it inclusive, secured, and trusted and it is platform multi-stakeholders participation is important. Diversity and inclusion participation is meaningful, regionally, and globally. Building consensus on policy issues to make an impact.

Ms. Yuliya Morenets @globalyouthigf Founder & Former UN MAG mentioned it is a multi-stakeholder platform. Youth IGF many countries are implementing youth IGF, youth participation is crucial to come up with internet connectivity. Two priority youth increasing cybersecurity skills among young's cyber-attacks, digital literacy for the people, environmental program climate change IGF and ICT mitigate climate change behavioral change, digital issues. Young people can play a vital in promoting the issue. Internet governance secretary-general in debates in the multi-stakeholders issue. For youth mainstreaming. Gender taskforce and we need by sharing and doing for women.

Mr. Augusto Mathurin based in the Dominican Republic discussed on social media Against Humanity mentioned what should be stayed online what not four options for post what should be accepted, removed, warned, prosecuted.

Mr. Sayed Mohammad Mahmudul Islam, Co-Founder & General Secretary, Assent Foundation discussed on Internet Addiction of Children and Adolescents in the Context of COVID-19 in Bangladesh: Causes, Effects, Side Effects, and Way Forward. He said we should use the internet for well-being and avoid any harmful especially addition of the internet and social media.