We have every trust on CodersTrust, ICT state minister Palak says
প্রকাশিত: ১০:৫০ পিএম, ২১ ফেব্রুয়ারি ২০২৩ মঙ্গলবার আপডেট: ১০:৫৪ পিএম, ২১ ফেব্রুয়ারি ২০২৩ মঙ্গলবার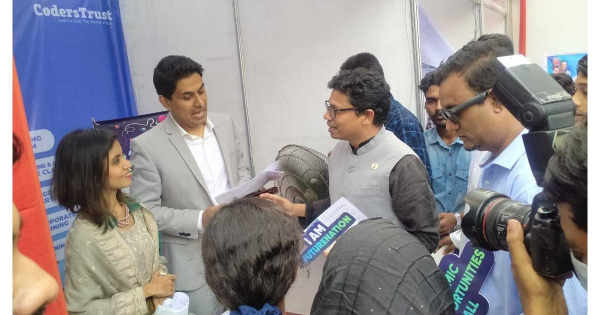 "I feel so proud that a globally reputed organization like CodersTrust has joined this event at my constituency. We have every trust on CodersTrust and we believe our youths will get real quality IT training from them."
ICT State Minister Junaid Ahmed Palak, MP said when he was visiting the CodersTrust stall at the venue of ICT Freelancing Camp and Job Festival 2023.
The two-day long program, held on 17th and 18th February at Gol-e Afroj Govt school premise in Singra, Natore, attracted thousands of youths who wanted to see themselves as future ICT freelancers.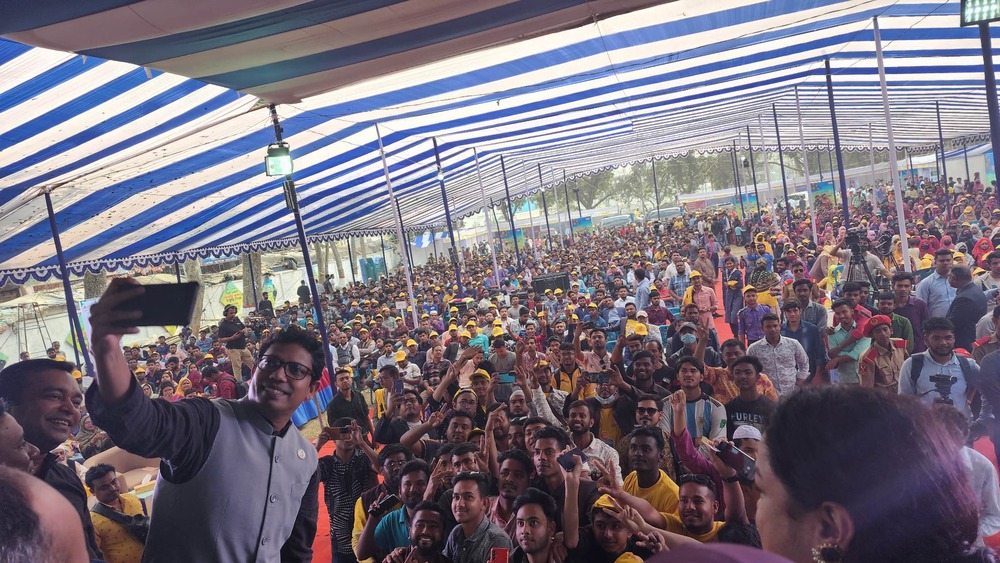 All gathered under a huge pavilion where the state minster talked and later was seen taking a selfie with all the participants who were showing Victory sign.
All who joined the program were overwhelmed with joy, enthusiasm and were committed to see themselves as information technology freelancers in the coming days.
The state minister also distributed certificates among 950 trainees who joined the freelancing camp.

Later in a speech he urged all the youths of his constituency to take the opportunity to be a freelancer and said that no one will remain unemployed in Bangladesh. The country is stepping forward in ICT under the leadership of prime minister Sheikh Hasina, he added.
CodersTrust chairman Aziz Ahmad, in a personal note in social media, congratulated state minister Zunaid Ahmed Palak MP for organizing this event. "You created such a movement in building digital workforce in Bangladesh under the leadership of Honorable Prime Minister Sheikh Hasina and Hon'ble Advisor of ICT Mr. Sajeeb Wazed Joy. We are so proud to be part of this journey and reiterate our commitment to uphold the continued endeavor in heightening the stature of CodersTrust as the best skill and digital human resources training institute both locally and globally," said Aziz Ahmad.
Nearly two dozens of organizations, authorities, institutions and companies joined the program displaying their IT supports and services
CodersTrust was among the organizations who set their stall at the venue and attracted a huge number of visitors. More than 500 youths dropped their resume into a 'Resume Box' of CodersTrust, set at the stall. They also talked with the mentors of codersTrust at the program venue.
CodersTrust mentor Soummo Supriya made a presentation on 'In-demand Skills" and urged the participants to be futuristic about choosing their IT learning topics and platforms while CodersTrust Country Director Ataul Gani Osmani joined in a panel discussion on skill development to overcoming barriers of freelancing.
Singra UNO Mahmuda Khatun presided over the program while Humayun Kabir, Project Director of Learning & Earning Development Project under ICT division, upazila Awami League president Sheikh Obaidur Rahman and municipality mayor Zannatul Ferdous spoke on the occasion.